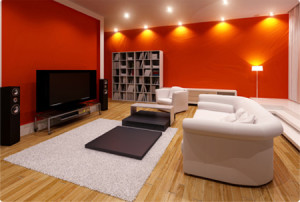 Benefits of Recessed Lighting
There are many to benefits of recessed lighting in your home.
You can design the trim (the visible portion of the light casing) almost any way you want for the space you're putting it in.  Because recessed lighting is installed against a flat surface, you won't have any fixtures hanging down getting in the way.
Recessed lighting is normally very energy efficient and they run on a lower voltage than other lighting choices.
They can be installed anywhere in the home with a flat surface and electrical access – slopes or vaulted ceilings, walls, under stairways, porches, and patios
Having recessed lighting in a room gives in a more ambient feeling. If you have a specific piece of artwork or architectural aspect in your home or business you want to showcase, these types of light are great for that as well.
We are Certified Electrician in Albany, Schenectady, Troy, Colonie, Cohoes, Rotterdam, Scotia and Niskayuna. We provide the best service for installation of Recessed Lighting in the Capital District.  Get more information on our company and services by checking out our web site:
http://www.capitaldistrictelectric.com/