Electricians in Colonie NY
Are you looking for the top rated Electricians in Colonie NY.  Look no further.  You can search for Best Ratings electricians or Electrical Contractors  in the Yellow Pages, Superpages, Yelp, Angie's List, Timesunion, Yellowpages, HomeAdvisor and others.  However, your Top Electrician will be Capital District Electric.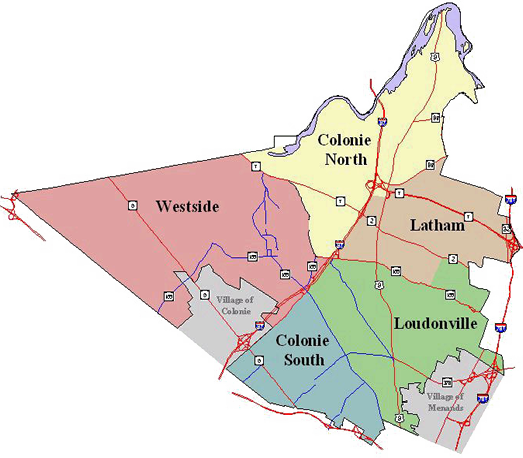 Colonie Trivia &  Town Information
Colonie /ˌkɒləˈniː/ is a town in Albany County, New York, United States. It is the most populous suburb of Albany, New York, and is the third largest town in area inAlbany County, occupying about 11% of the county. Several hamlets exist within the town. As of the 2010 census, the town had a total population of 81,591.
The name is derived from the Dutch Colonye or "Colonie", derived from the Colonie of Rensselaerswyck. All the land outside the Village of Beverwyck (now Albany) was referred to as the "Colonie". The town of Colonie is north of Albany and is at the northern border of the county. Within the town of Colonie are two villages, one also known as Colonie and the other known as Menands.  (Source: Wikipedia).
About Us
We provide Electricians in Colonie, Niskayuna, Guilderland, Cohoes, Halfmoon, Green Island, Albany and Watervliet.
We perform the following services:
• New Outlets • Computer Wiring • Breaker Box Replacements • Old Fuse Panels to Circuit Breakers • Televisions & Audio Equipment Wiring • Service & Repair • Electrical Boxes • Hot Tubs & Spas Wiring • Generators & Emergency Backup Systems Wiring • Landscape Lighting • Appliance Hook-Ups • Indoor & Outdoor Lighting • Ceiling Fans, Exhaust Fans, Lights, Motors, & Other Units.
Town information: http://www.cityofColonie.com/
http://www.capitaldistrictelectric.com/  or Call us at: 518-438-7707
A full list of Cities we service can be found here!